This week kicked off with the news of the potential demise of one of the UK's longest-standing restaurant brands, roadside chain Little Chef.
After a number of tumultuous years for the group – which even a TV series with Heston Blumenthal changing the menus couldn't fix – owner RCapital put it up for sale in April. But the majority of bids have since come from fast-food rivals, including McDonald's, KFC and Costa Coffee, who want to scrap Little Chef and take the sites for themselves, according to BBC News.
Meanwhile another iconic-for-all-the-wrong-reasons brand is threatening UK and international expansion as Planet Hollywood founder Robert Earl has launched a new company called Earl Enterprises. He plans to grow the movie-themed chain, along with the Earl of Sandwich group of sandwich bars and the Buca di Beppo brand of Italian family restaurants, reports Big Hospitality.
New York-based restaurant operator the Altamarea Group has joined forces with Rowley's steak house owner Will Guess to launch its first international site in London. Chop Shop in Haymarket is scheduled to open in September as a butcher-shop inspired restaurant, says Caterer and Hotelkeeper.
Staying across the pond, the Sun claims that after teaming up to open Union Street Café in London later this year, David Beckham and Gordon Ramsay could also be opening a restaurant in Las Vegas together. And while that might be a recipe for a bad hangover, Hollywood star Bradley Cooper has been getting cooking (aka swearing) lessons from Ramsay for his latest role of a drug-addicted chef.
On the small screen meanwhile, the BBC has commissioned two new series featuring chefs Tom Kerridge, Cyrus Todiwala and Tony Singh. Two-Michelin-starred Kerridge will reveal how to cook the best-ever pub food in Tom Kerridge's Proper Pub Food, while Cyrus Todiwala and Tony Singh are setting out to creating a New British Cuisine that truly reflects the multicultural nature of our country in The Incredible Spice Men: Todiwala And Singh, announced Digital Spy.
Back in London, Michelin-starred Indian chef restaurateur Karam Sethi from Trishna is opening a new venture called Gymkhana in Mayfair in July. Modelled on the British Raj gentlemen's clubs, Bloomberg reports it will specialise in spicy food, tonics and mixers from India, old Indian punch recipes and whiskies.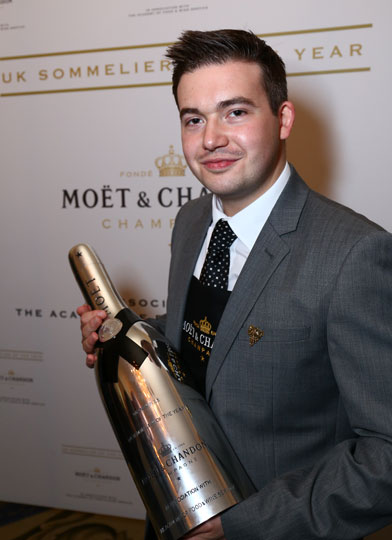 Remaining on the subject of booze, Clement Robert of London's Michelin-starred Medlar Restaurant has won the 2013 Moët UK Sommelier of the Year title. Having entered the competition for the fifth time, he told Decanter he "was ready to win this year". Now there's dedication that puts even Bayern Munich to shame.
Last but not least some positive news: Booming trade in Britain's hospitality sector is paving the way towards an economic recovery, reports the Guardian, as business lobbying group the CBI said in its quarterly survey that UK hotels, bars and restaurants enjoyed their biggest rise in trade in almost six years. Cheers to that!